From this: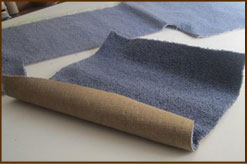 to this!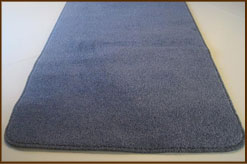 Let us turn your new carpet offcuts into something useful
After being a carpet layer in the Canberra region for the last 25 years, Chris has changed course and now overlocks/edges new carpets on request, as well as having ready made mats for sale.
Chris Nicholson Carpet Overlocking Services offers:
Overlocking/edging of new carpet pieces for the general public - just drop your pieces of carpet off, choose the overlocking yarn to be used (if you wish) and pick up your new mats when they're done.
Overlocking/edging of new carpet pieces for Carpet retailers on behalf of their customers.
A variety of yarn colours are available - see the gallery.
Joining of new carpet pieces to make larger mats or to suit unusual shapes - where pieces are suitable and shape is achievable.
Sale of overlocked/edged carpet mats in various sizes, including pot plant mats, dog bone mats and childrens novelty mats - see examples in our gallery.
Anti slip solutions are also available.